Table games at Joo Casino
Joo Casino offers a wide range of table games for Australian players to enjoy. The casino has a variety of Blackjack, Roulette and Baccarat tables available, as well as a selection of Poker games. There is also a selection of other casino games available, such as Sic Bo, Keno and Craps.
To start playing table games a player just need to pass a quick registration process and choose any game from the list. The casino offers both real money and free play options for all its games. So, even if you are a beginner, you can try out the table games in demo mode and only then switch to playing for real money.
Online Blackjack
This classic casino game comes in many different variations at Joo Casino. You can choose to play American Blackjack, European Blackjack, Pontoon, Perfect Pairs Blackjack and many other variants. The rules of the game are pretty much the same in all variants, with slight differences in gameplay. If you are new to the game of Blackjack, we recommend starting with the classic version of the game. Once you get a hang of it, you can try out the other variants.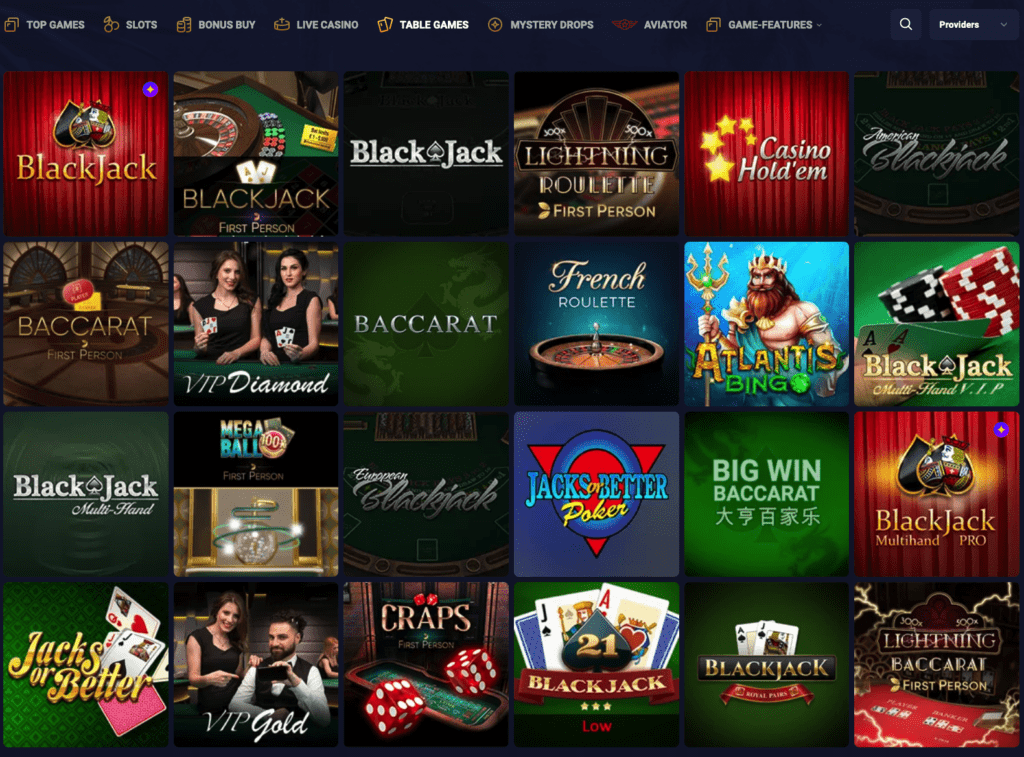 Blackjack rules
Blackjack rules are pretty simple – you need to beat the dealer's hand by getting as close to 21 points as possible, without going over. The game is played with a standard 52-card deck, with the exception of the jokers. Cards from 2 to 10 are worth their pip value, while Jacks, Queens and Kings are each worth 10 points.
Betting limits
Depending on the table you choose, the minimum and maximum bet can be different. You can find tables with betting limits as low as $1 and as high as $5000.
Baccarat
Another any card game in online casinos is baccarat. Joo Casino has more than 30 variations of the game of baccarat. Each of the players will be able to pick up a table to suit their budget or the rules of the game! Play classic baccarat, speed baccarat or baccarat squeeze – the choice is yours.
Baccarat rules
The aim of the game is to predict which of the two hands – the player's or the banker's – will come closest to nine. You can also bet on a tie, but this bet has much worse odds, so we don't recommend it.
Betting limits
At Joo Casino, you can find baccarat tables with betting limits as low as $1 and as high as $5000.
Poker
Poker is one of the most popular table games in both land-based and online casinos. The casino has a wide selection of Poker games for you to choose from, including Texas Hold'em, Omaha, Stud Poker and more. Poker at Joocasino is held online with high-quality video broadcast and Dolby Surround sound. This gives a great opportunity to watch the game, as well as you can communicate with the dealer or other players!
Betting limits
The betting limits at Joo Casino Poker tables start at $1 and go up to $5000. At the Joocasino, you can find tables with different betting limits, so everyone will be able to find a game to suit their budget.
Frequently asked questions about table games at Joo Casino
Do you have questions about table games at Joo Casino? You're not alone. In this paragraph, we'll answer some of the most frequently asked questions about blackjack, roulette and baccarat. Whether you're a beginner or an experienced player, we've got the answers to all your questions.